The Lymphatic Brush
The Lymphatic Brush is not a dry brush, a make-up brush, or a cleansing brush. The patented design provides an easy, ergonomic and effective way to incorporate lymphatic drainage into your professional and self-care face and body routines.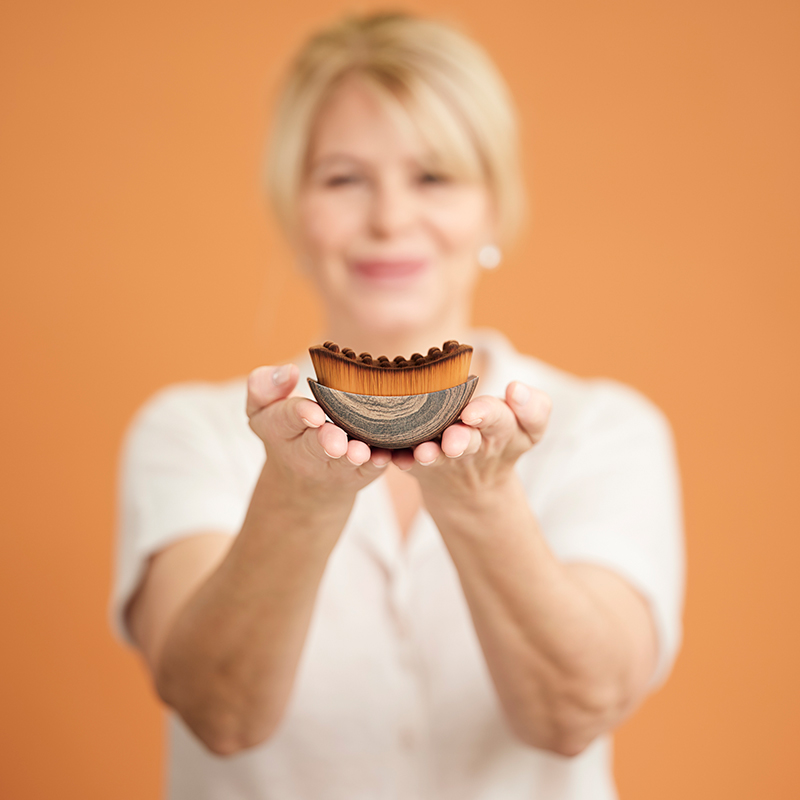 Cecily Braden has revolutionized "bristle" face and body brushes with the introduction of The Lymphatic Brush
The patented design features a unique bristle pattern and density combination that grips the skin in a precise way, targeting the superficial lymph vessels residing just under the skin. When combined with specialized techniques, it mimics the passive contractions of the lymph vessels to manually propel fluids and stimulate lymph flow.
The ergonomic contoured shape ensures proper contact with the surface of the skin and accurate alignment with the lymph nodes and lymphatic pathways.
Although they appear the same, the face and body brush bristles differ slightly to provide appropriate pressure from head to toe. The bristles are soft, but durable. They won't scratch, irritate, or damage sensitive and fragile skin types.
The Lymphatic Brush makes it easy to effectively incorporate lymphatic drainage into your professional treatments and self-care routines.
Let's get flowing…
Flush excess fluid and cellular waste to revive tired, restless legs, reduce swelling, improve digestion, minimize the appearance of cellulite, support the immune system and assist your body's ability to heal.
Best Deal! Your full-body and facial lymphatic drainage solution. Target sluggishness, reduce inflammation, clear congestion, improve common skin concerns and support your immune system from head to toe.
Achieve healthy, glowing and clear skin by supporting the skins natural filtration system to remove excess fluid and cellular waste that contribute to acne, rosacea, puffiness, dark circles and sensitivities.

As a sun worshipper, I've noticed that with just a little use every day, my pigmentation and the overall texture of my skin is smoother. Plus the stress relief! If you're the type glued to your computer, just take a break and use along your jawline, shoulders and neck. A little goes a long way to dissipate a full day on the laptop.
Christina C.
As someone diagnosed with Lipedema, I've struggled with the fluid in my legs for years.  Fluctuating constantly, it's frustrating and embarrassing. Dry brushing is too painful as the skin becomes very sensitive to the slightest touch. The Lymphatic Body Brush has not only helped my lymph drainage, it also feels so soothing and easy to use.
As a holistic esthetics practitioner, I know the benefits of manual lymphatic drainage on a daily basis. This brush will allow even a novice to have an at home self care practice in place.
Lee Z., Holistic Practitioner
The Lymphatic System: Why should I care?  By Cecily Braden This is a topic we will continue to explore, along […]
A Minimalist x Modern Approach 
Sustainability in the health and wellness industry starts with a shift in how we view and care for our ourselves. We must consider and seek to balance the physical, mental, financial, and environmental impact of what we purchase.
The Lymphatic Brush is part of a conscious consumer choice that focuses on a minimalistic approach to skincare that prioritizes our internal health. By focusing on our internal health and improving the function of our skin from within, we're able to maximize the effectiveness of the products we use and reduce our dependency on complicated skincare routines and costly programs that often don't work.
It isn't fast fashion, a fad, or hyped wellness trend. It's a tool that supports the science of the skin and natural filtration system of our body. It's a gentle, pragmatic approach that "clears the clutter" and allows your skin and body to work better for you.